Teeterville is a small hamlet with a big history.
In 1855, George Teeter purchased land in Windham Township, and in 1859, he laid out the village of Teeterville.  The village made incredible progress.  By 1870, Teeterville had two churches – one Methodist and one Baptist, a school, a town hall, a confectionary store, two general stores, two millinery shops, two shoe shops, a tin shop, two harness shops, three carriage shops, a wagon works, three blacksmiths, a foundry and cider mill, a tailor shop, a bakery, a butcher, a cabinet shop, a cooper shop, two carpenter and joiner shops, a drug store, two doctors, and a sash and door factory.  There were three hotels – the Teeter House, the Red Lion Saloon, and the hotel of Joseph Cox. One of the stores had a telegraph office, and John Edgeworth was the operator.  There was a post office located in another store.  Every day Henry Griffin drove a mail wagon from Oakland to Windham Centre.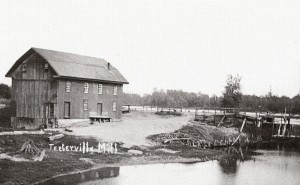 Twenty-five men were hired at Teeter's Mills, which was the major industry in the village.  There was a saw mill, planning mill, shingle mill, and a grist mill.
In 1897, a major tragedy struck Teeterville.  It had been a hot, dry summer.  One morning in September, a fire broke out in the home of Jack Denby.  It quickly spread to other buildings on both sides of Simcoe Street.  Bells on the blacksmith shop were sounded in alarm and citizens formed bucket brigades in attempt to fight the fire.  The wells in the village were quickly dried up.  Fourteen buildings were reduced to smoldering ruins.  Unfortunately, Teeterville never returned to its former glory after this event.
Teeterville remained an active place into the 1900s.  In the 1920s and 1930s, Teeterville was known for its tobacco production, and was the home of a tobacco plantation that owned about 50 farms.  People traveled from the Southern United States and from Europe to work as sharegrowers.  The plantation eventually closed and farms were acquired by individual owners.
Today, Teeterville is home to approximately 125 people.  Teeterville Public School provides education to local children from kindergarten to grade eight.  Quiet and serene, Teeterville is an ideal location for a walk, a bike ride, or a picnic.  The Teeterville Pioneer Museum holds artifacts that tell the early stories of Teeterville and its surrounding areas.
Click to find more information on each of the following topics:
History of S.S. No.11 Teeterville School
The Mason Log Cabin – A Brief History