Open for the Season!
Summer is here and so is the operating season of the Teeterville Pioneer Museum. The museum will be officially open for the public to enjoy on June 1st. So head on over to be immersed in the life of a pioneer in Norfolk County.
Pioneer Projects
Come on out the Teeterville Pioneer Museum for some pioneer fun! Every Saturday, beginning July 6th, the Museum will be hosting a hands-on activity that will give visitors an opportunity to learn a skill that early settlers commonly used in Pioneer life, such as fence building, cross-cut sawing, candle making, or fire starting. A different activity each Saturday, from 10:00 am to 4:00 pm. All materials provided. Admission by donation.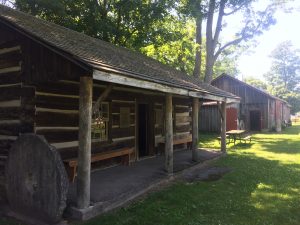 Tractor Drive
Calling all vintage tractor owners and enthusiasts! Join us for a half-day drive through the beautiful backroads of Norfolk County on Saturday August 24. All tractors 1980 and older are welcome to join in this celebration of vintage tractors and their owners! Viewing of the tractors can take place by the public at the Teeterville Pioneer Museum, along the driving route, and in Quance Park adjacent the Delhi Tobacco Museum and Heritage Center in accordance to the schedule. Stay tuned for a schedule and route map to come shortly! 
Registration is required for all tractor drivers. Please contact the museum for more information.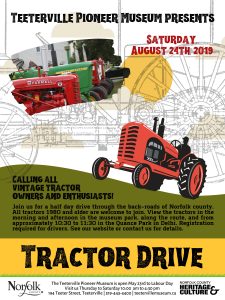 ---
Open Seasonally from Victoria Day to Labour Day Weekend
You can contact us year round at